The
California Society for Cardiac Rehabilitation's Mission Statement
"We are dedicated to promoting health and wellness and preventing cardiovascular diseases through the dissemination of education for the benefit of health care professionals, clinical practice and the public at large."
Welcome

View and Update My Profile
We are now a Joint Affiliate with AACVPR!
*If you are a "dual" member, your CSCR membership will be extended to
June 30, 2016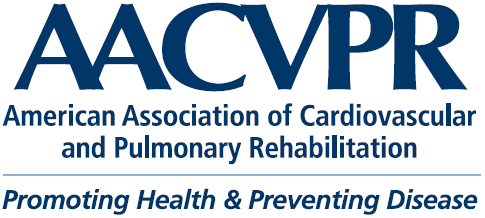 Click here to become a CSCR and AACVPR Joint Affiliate member.
---
UPCOMING EVENTS
Networking Series
John Muir Medical Center
When: October 6, 2016 at 5:00 pm
Where: Concord Rooms at John Muir Medical Center, Concord- MAP
2450 East Street
Concord, CA 94520
Tel: (925) 682-8200
Cost: CSCR Members- FREE!
Non-CSCR Members- $10
Guest Speaker: Dr. Carolyn Lacey will be discussing Takotsubo Cardiomyopathy/ Spontaneous Coronary Artery Dissection: "SCUD", Not Just a Heart Attack
Other Topics to Include
Bundled Payments
AACVPR Conference Update
1 Nursing CEU will be provided by John Muir- BRN provider #00564
(CEU will provided at the event and will not be available to be emailed or printed)
Refreshments and Dinner will be provided. To register please click on the link below:
MAC Survey
Please read the following email regarding our local MAC jurisdiction
Dear CSCR member,
AACVPR is implementing a Task Force to coordinate, establish, renew, or improve communication with Medicare Administrative Contractors (MACs). The Centers for Medicare & Medicaid Services (CMS) has deferred to MACs to interpret a number of clarifications regarding the Federal regulations for cardiac and pulmonary rehabilitation (CR & PR). There are twelve MAC contracts which are currently held by seven companies.
As a CSCR member you have access to a Task Force Liaison and a MAC Resource Group (which includes two CSCR members). In addition, AACVPR has developed a MAC web page. It's vital that communication consistently flows two ways when information is needed and issues arise. AACVPR's "national eye" on regulations and payment is advantageous for all of us.
To assist in setting up this vital communication link and developing priorities we ask that every program complete this quick, ten question survey. Click this link to view the electronic version the survey: https://www.surveymonkey.com/r/YTXHLLZ
Thank you,
MAC Resource Group (MRG)
Finding the "N" Project- Part 2
The CSCR has been working closely with AACVPR in identifying all the cardiac rehab programs within the nation. We have successfully completed this process and have discovered that there are 2,685 programs. We are now trying to establish the individuals who work in these programs. During the next few months a representative from CSCR will be contacting your program. We are asking that someone in your program fill out the survey linked below. It is important to note that you do not have to provide work contact info (it can be skipped) and that all information received will remain strictly confidential. This information is important to help us better understand our profession so that we may design better programs, offerings, and educational events. Anyone from your program can fill this survey out.
https://www.surveymonkey.com/s/R7YCV7T
---
Thank You to Our Sponsors!